CLOSE OUT YOUR FESTIVAL SEASON WITH JIBBERJAZZ PRODUCTIONS!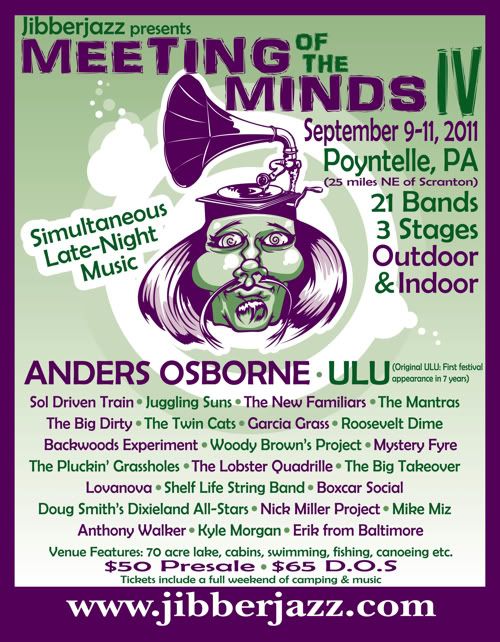 Jibberjazz Presents:
MEETING OF THE MINDS IV
September 9-11, 2011
Poyntelle, PA
(25 miles NE of Scranton)
21 Bands
3 Stages
Outdoor and Indoor
Venue Features: 70 acre lake, rentable cabins, swimming, fishing, canoeing etc
$50 Presale * $65 D.O.S
Tickets include a full weekend of camping & music
www.jibberjazz.com
Featuring:
ANDERS OSBORNE
ULU
(Original ULU: First festival appearance in 7 years)
Sol Driven Train
Juggling Suns
The New Familiars
The Mantras
The Big Dirty
The Twin Cats
Garcia Grass
Roosevelt Dime
Backwoods Experiment
Woody Brown's Project
Mystery Fyre
The Pluckin' Grassholes
The Lobster Quadrille
The Big Takeover
Lovanova
Shelf Life String Band
Boxcar Social
Doug Smith's Dixieland All-Stars
Nick Miller Project
Mike Miz
Anthony Walker
Kyle Morgan
Erik from Baltimore
www.jibberjazz.com
MOTM VENUE:
A 500+acre, private campground featuring: a 70 acre lake complete with canoes and kayaks for use, rentable rustic cabins, Outdoor & Indoor stages, PLENTY of room for camping, swimming, hiking trails, fishing waters, tennis & basketball courts, restrooms, showers etc. This is the absolute perfect venue and location for a Jibberjazz music festival!
MEETING OF THE MINDS IV:
A full weekend music & camping festival showcasing 21 bands, 3 stages, lake activities, simultaneous late-night indoor/outdoor jams, numerous solo-artists, kids activities, light shows, yoga, fire performances, parades, food & craft vendors, various workshops and more. As always, a wide variety of musical styles will be featured including: Jam, Funk, Folk, Bluegrass, Blues, Rock & Roll, Reggae, Americana and more.
MOTM TICKETS:
Presale tickets are $50 and include a full weekend of camping & music. All events are B.Y.O.B. for those of age.
JIBBERJAZZ PRODUCTIONS:
Over the last 6 years, Jibberjazz festivals have drummed up a ton of buzz in the underground by showcasing a diverse musical-lineup that blends heavy-hitting out of market bands, national acts, and up-and-coming regional talent. Our events developed a dedicated fan base in the region, which allows us to take more risks in booking the bands we want at our festival. Each year, these festivals continue to grow in intensity and attendance. And that trend will continue into 2011 and beyond, as we continue to produce three music & camping festivals per season in eastern PA.
Creative line-ups, killer music, and good people are what Jibberjazz is all about. Now let's get to wild dancing!
www.jibberjazz.com