Another MIDSUMMER MELTDOWN with Jibberjazz Productions!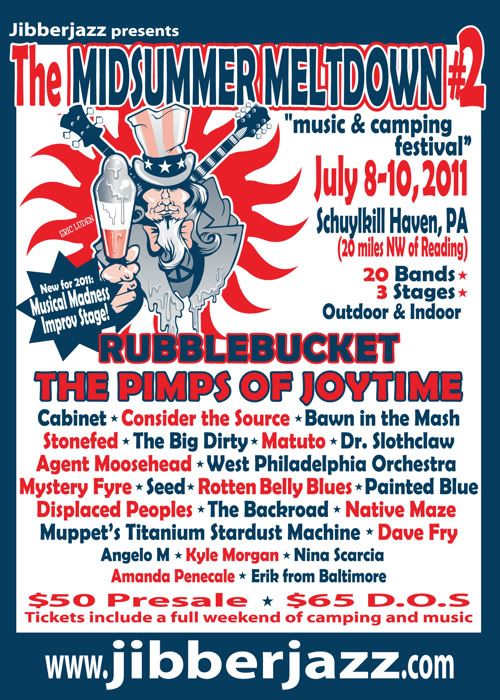 Jibberjazz Presents:
THE MIDSUMMER MELTDOWN #2
July 8-10, 2011
Schuylkill Haven, PA
(20 miles NW of Reading)
20 Bands
3 Stages
Outdoor & Indoor
New for 2011: Musical Madness Improv Stage
A full weekend of camping & music
$50 Presale tix
www.jibberjazz.com
ARTISTS:
:
RUBBLEBUCKET
THE PIMPS OF JOYTIME
Cabinet
Consider the Source
Bawn in the Mash
Stonefed
The Big Dirty
Matuto
Dr. Slothclaw
Agent Moosehead
West Philadelphia Orchestra
Mystery Fyre
Seed
Rotten Belly Blues
Painted Blue
Displaced Peoples
The Backroad
Native Maze
Muppet's Titanium Stardust Machine
Dave Fry
Angelo M
Kyle Morgan
Nina Scarcia
Amanda Penecale
Erik from Baltimore
www.jibberjazz.com
MIDSUMMER MELTDOWN #2
will be a full weekend music & camping festival, featuring 20 bands, 3 stages , solo artists, food & craft vendors, late-night indoor jams, kids activities, light shows, fire performances, parades, yoga workshops, a musical madness improv stage and much more. Our venue is a beautiful 60-acre rustic fairground, featuring outdoor & indoor stages, plenty of camping space, permanent restrooms & showers, nature trails, trout fishing waters, and electricity access for RV's. Presale tickets are $50 and include a full weekend of camping & music. All events are B.Y.O.B.
Over the last 5 years, Jibberjazz festivals have drummed up a lot of buzz in the underground by showcasing a truly diverse musical-lineup that effortlessly blends heavy-hitting out of market bands, national acts, and up-and-coming regional talent. These festivals have developed a dedicated fan base in the region, which allows us to take more risks in booking the bands we want at our festival. Each year, these festivals continue to grow in intensity and attendance, season after season. And that trend will continue into 2011 and beyond, as we continue to produce 3 music & camping festivals per season. Creative line-ups, killer music, and good people are what Jibberjazz is all about. Now let's get to wild dancing!
As always, Jibberjazz will showcase a wide array of musical styles, including but not limited to: Jam, Folk, Funk, Bluegrass, Blues, Rock & Roll, Americana, World, Jazz etc.
Food Drive by Strangers Helping Strangers.
Psychedelic lighting by Groovin' Lumens
www.jibberjazz.com
More 2011 Jibberjazz Festivals:
4/29-5/1 Some Kind Of Jam 6 (Schuylkill Haven, PA)
9/9 – 9/11 Meeting of the Minds IV (Poyntelle, PA)
MARK YOUR CALENDAR FOR ALL JIBBERJAZZ 2010 EVENTS and forward this to friends!!!
www.jibberjazz.com
DIRECT TICKET LINK:
[b]
jibberjazz.inticketing.com/events/140328
[b]